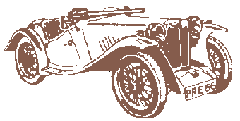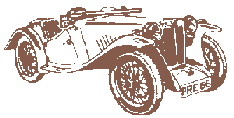 The Specialist Club for pre 56 MGs
WANTED BY MEMBER
MG VA Saloon or Tickford DHC wanted by long-time MG owner and club member
Please email or phone Pete at the Office
MG Y Type 1951 (YA) I bought this car about 5 years ago. It is in good mechanical order with regular servicing since I have owned it by a local classic sensitive garage.
The bodywork is in generally good condition although there are a few areas where minor work is needed. The front and rear bumpers need re-chroming or replacing. The sunroof has decided to jam closed - it will need to be freed off and re-set which might involve easing a section of the roof lining. On the road the car progresses smoothly, the engine is willing and starts on the button, uses very little oil and is easy and pleasant to drive. There is a battery isolator fitted and a 12volt socket has been installed to facilitate the use of e.g. a satnav; The car was converted to negative earth prior to my purchasing it. I have some service history and some photos of earlier work done on the car, together with the original Green Registration document. There is a complete set of new carpets waiting to be fitted; the existing set is adequate but light tan was never an original colour.
Price is £13,500. Contact Bernard on 07777670245 (Warwickshire)
1937 MGTA FOR SALE Chassis No: TA1181 Built in Abingdon on 22nd March 1937
I acquired the car in 2013 and during the following 3-4 years it was completely stripped and rebuilt. It has been fitted with an XPAG engine (as fitted to the MGTB and TC), and a five- speed gear box. It has been completely rewired and all the hydraulics replaced. The wire wheels were refurbished, new springs and shock absorbers fitted, braking system renewed. A new fuel tank was fitted and all the bright work was re-chromed or replaced. The interior, (which has MG TA Tickford bucket seats), has been re-upholstered in leather. There is a new hood and side screens and a new tonneau cover, etc., etc. The car has had a full bare metal respray in burgundy over black and was back on the road with a full MOT in 2016.
There is a full photographic record of the restoration and a very interesting history file which includes a long stay in a Swedish Motor Museum.
The car now has its original 1937 Registration Number
Offers in the region of £35,000
For further information contact Richard on 01704 872367 or 07732188968
TF 1250 for sale. Original buff log book, original number plate, original manual, massive history file for winter nights reading. 80's restoration, nice patina now, maintained with no expense spared. Some photos of restoration winning many awards culminating with Benson and Hedges concourse in 1989.
1996 Naylor Bros. £12,000 2000 XPAG Eng. Engine rebuild head modified to run on unleaded £2,250. 2009 work totalling £1398. 2015 5 speed gearbox (original to come with the car). 5 new Pirelli Cinturato tyres. Separate indicators and diode stop/tail conversion. New full tonneau.
Winter stored in dehumidified garage with battery maintenance.
£32,500 ONO.
Please call Mike on 07779 570570 or email mikededent@hotmail.com .
1954 TF 1250. This car has had a ground up restoration completed by MG enthusiast Dave Saunders prior to purchase by me about three years ago. It has since covered 2000 miles. The car was originally a RHD export to Zambia, from where it was re-imported and given an age-related number plate.
The restoration used many new parts yet maintains much of the original car. It is painted in a stunning unmarked Monza blue with blue/grey upholstery and navy hood, tonneau and side screens.
The car has been upgraded with a solenoid starter motor, electronic ignition, Dynamator alternator combined with false regulator, bonnet supports, a drop down luggage rack, modern indicators and poppers where the hood attaches to the rear valance so that the hood can be lifted away for loading. The original parts have been retained and can be changed over very simply at any time.
The car was in concours condition when purchased and has been on a few road runs since, so is now well run in. It remains a superb car that needs no work and drives beautifully. This is one of the best TF 1250s you can buy.
Current mileage 1980 (odometer zeroed on restoration)
An MOT is not legally required, but can be arranged before purchase
There is full documentation of the restoration which will accompany the car.
Come and see the car – you will not be disappointed.
Offers around £32,000.
Contact John Dutton on (44)1959522548 or +07769332884 or jwdutton@btinternet.com
Car is located in Sevenoaks Kent
1933 MG J2 Sports Car. I bought this car in April 1974 as a complete car in need of restoration, previously it had been owned by one person since 1935 ,I am the 4th owner. I restored it and put it back on the road in 2006. I have shown it locally and driven up to 500 miles per year since. It is not concours but looks very smart and receives a lot of admiring remarks. It has an MG registration and I have tried to keep it as original as possible. I have a long list of work which has been carried out and if you are interested I can send it to you.
£30,000
Email dkeithjeffreys@gmail.com or Tel no 01629 813376 . Derbyshire.
MG TA 0299 1936 This car is one of the early TAs with plain rear wings and a wide tank. Extensively overhauled in the last 5 years, including clutch, piston rings, cylinder head, brakes and steering. Recent new hood with the correct two rear screens and recovering of seats. Paintwork and chrome serviceable but not perfect. Car located within 5 miles of Belfast City Airport.
Any viewers will be collected and the air fare of the purchaser refunded. For full details email Don McPherson at janeanddon2000@hotmail.com or phone 028 9042 4825 £22,500
MG TD 1952 Reno red with beige leather interior, beige hood and side screens and black carpets. UMG registration number. Restored in the nineties. Beautiful car only used in dry weather during my 12 Years ownership. Fitted with 4 new tyres, stainless steel exhaust, very good chrome including luggage rack.
Price £16500. Phone 02838871698 or 07732630077 (Northern Ireland)
MG Y Type 1950 In need of restoration.
Very original car which has been dry stored since 1989 when I purchased it from the club.
Engine rebuilt a few years ago and runs very well. The car does drive but needs a lot of work on the body. There is no V5 but I have the buff log book and letter from Swansea saying the car can keep its original number after it was inspected in 1990, subject to satisfactory restoration.
I never got around to restoring it as my time was spent on my TC.
Loss of storage now means I must sell. £3,950.
Contact Geoff on 01889 566370 or 07751 894097 (Derbyshire).
MG TD 1950 American import convert to R.H.D. grown up restoration 98% complete.
All new spares to finish British Racing Green.
Biscuit leather interior. new hood
Will make really good car when finished.
£19,995 O.N.O
Phone: (01636)894132 Tony Coupland
1954 TF 1250 recently renovated MG in excellent condition. The car has been garaged and stored for the past eighteen months and is being sold due to ill health.
For further details with no obligation please contact Don Ross on + 44 01892 832052 (Kent)
e-mail ;-donross77@hotmail.com.
Offers Over £18,500 o n o
MG TA first registered 15/10/1936. Car No 0469. Engine MPJG 716. The owner before me had the car for nearly 40 years, and had done a great deal of work including new timbers and panelling, new wiring loom, engine rebuild, new hood with the correct 2 rear windows and much more, keeping very careful records. I have 2 box files of records, invoices, drawings, pictures etc. Buff log books going back to 1945. I acquired the car in 2015, continuing to maintain and improve. New brakes and Alfin drums. Lead free head, phosphor bronze valve guides etc, also a new stainless steel fuel tank, and many other parts too numerous to list. Oil pressure is 55psi when hot. Water temperature is approx 75f. In the winter of 2017 I stripped the body down to the chassis for a full bare metal re spray in BRG. At the same time re trimming in beige. Please phone for more details.
£29,500.00
Call 01395 445820 or email ajbeach@hotmail.co.uk.
1953 red MG TD Superb condition - only ever driven on dry days!!!
Just over 700 miles since a complete nut and bolt rebuild - having come in from the USA.
Converted to right hand drive with engine rebuild to take unleaded petrol.
£750 spent recently on complete brake overhaul with new master cylinder.
Red upholstery and beige hood complete with side screens and chrome luggage rack.
Reluctant sale £21,500. Graeme Hewitt 01256 780065
graemehewittjazz@hotmail.com
1952 MG TD.
Original condition.
Beige leather interior and complete with beige matching new hood and new tonneau cover.
Wire wheels. 1250cc. 2 axle rigid.
Left hand drive, imported from Arizona and stored dry and covered.
Price £ 18,000. Comes with valuation certificate.
North Worcestershire. Tel : 01562 711074 or 01295 712252 email : romsley2004@yahoo.co.uk
1953 MG TD
Built in UK
In excellent condition. Has been regularly maintained and serviced
Garaged
Low mileage – local runs only
Renovation work undertaken between 2008 and 2010 – receipts available
British Racing Green with Tan tonneau
Provenance includes original registration document issued by Hertfordshire County Council and the original operation manual
Lovingly known as PRETTY NICE KID – a real beauty!
£35,000
Tel: 07770 738170 (Dorset)
MG TF 1500 1955
Right hand drive. Red with brown interior & beige tonneau. Wire wheels, new leather upholstery and in good condition as little used for the last 6 years. Owner for 15 years & stored in a heated garage. Bath, Somerset. Price £25,500.
Email derek.hayes@trhayes.co.uk for further information & phone number.
1954 MG TF 1250cc , in lovely condition, complete with chrome wire wheels,
£28,000 o.n.o
Contact Geoff Simpson on 07971 662298.
A very original Red RHD 1954 MG TF 1500, with biscuit interior, black mohair hood and full tonneau cover, chrome luggage rack and front badge bar.
Refurbished interior, engine completely rebuilt by MG TF specialist Naylor Brothers less than 500 miles ago.
The paint work is in very good condition for the age of the car but could do with some TLC.
The car comes with a specialist MG dust cover and a brand new external cover. The roof and windows are in fantastic condition (almost unused).
It comes with a good history of ownership and work done, with receipts.
Price £32,000 ono. Please contact Jill on 07590 0389120 or email JTFLY@aol.com
SA 1937 2288cc This car was the subject of an extensive rebuild by the previous owner who was an octagon member. I have refurbed the wheels , renewed the spindles and fitted a custom made high torque starter which is brilliant and I can't recommend highly enough, the awful pig that is the original is still here and comes with the car altho anyone who refits it is off their head as I feel that it is the cause of the problems with the bellhousing on these cars and the wolseley six. The car is in good condition but is not concours which is reflected in the 40k asking price
(anyone wishing more info on said starters contact below )
Contact George Melvin mob 079750847593 or email kirkhallfarm@outlook.com
Telephone:
Spares: 01455 611746 [Monday 4 pm to 6 pm, Tuesday to Friday 10 am to 3 pm]
Membership & General Enquiries: 01455 617961 [Tuesday and Friday 10 am to 3 pm]